Drawings
My drawings are created in graphite, charcoal, felt-tipped markers and colored pencils. Below are some samples from each media.
Click on each thumbnail for a larger view.
Dragon/Tree Self-Portrait, 1995
This piece was done on a 4 X 4' piece of paper. In the center is an eyeball, in which a graphite self-portrait is the pupil. Encircling the eye is a tree and dragon. Aluminum foil and waxed paper circles decorate the background.
Drinking Fountain of the Future, 1995
This was an actual hallway and drinking fountain right outside my Elements of Design classroom at the RC College at U of M Ann Arbor. I sat there the whole time while I created this graphite drawing.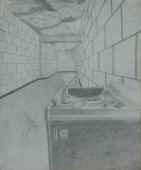 Charcoal drawings of sheet-covered boxes and other objects, 1996
During one of my drawing courses at U of M, we spent a lot of time drawing boxes covered with sheets and other white objects. These exercises really improved my ability to see small gradations in value. I can also more accurately draw angles in real life.
Nude woman in charcoal, 1995
For a couple of my drawing classes, we had live nude models to draw. Here is an example of one of my charcoal drawings.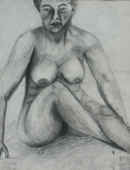 Various felt-tipped marker designs, 2001-2003
These are examples of my felt-tipped marker line designs.
HOME ARTWORK RESUME LESSON PLANS TRANSCRIPTS LETTERS OF REFERENCE