Pysanky
Pysanky is the Ukrainian art of dyeing eggs using a wax resist method.
I learned how to make them in April 2002 at my grandmother's church. During the school year of 2003-2004, I was even able to teach ten of my art students how to create their own pysanky. If you would like to read more about it, follow the link to the text I wrote when I taught this art.
Click on each thumbnail to see an enlarged view.
Ostrich pysanka with trilobite design, 2004
This is an ostrich egg. It is the largest egg I've ever done. It was completed April 2004. There is a trilobite (ancient sea creature) of my own design on one side (first picture). It's legs stretch around the sides (second picture) and form the border of an eye (third picture), with an intricate woven pattern at the corners. The last picture is of the bottom.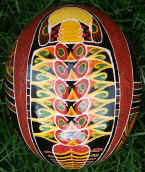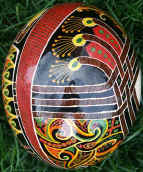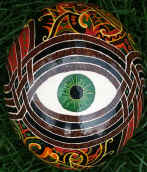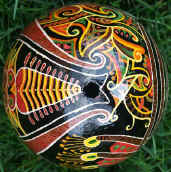 HOME ARTWORK RESUME LESSON PLANS TRANSCRIPTS LETTERS OF REFERENCE